As the header says. There's not been much going on, and in a way there has been as well. But mostly not.
I'm seeing a shrink now, which is good. Largely I feel better, as long as I'm not pushing myself. Fuck.
In the passing days I don't feel much like a black miasma is surrounding me but I have been bored. I call that improvement even if straining myself still makes me anxious. Small steps is bringing me forwards still. Today I adopted a too reasonable schedule of two hours of work, with a break every ten minutes. It feels much too reasonable for what I should be outputting but I remind myself this is about what I need rather than rise up to expectations. That helps me deal with it and I think this desire I have acquired of not wanting to grow complacent is a positive sign.
Next week the school will start moving from our old locales to the ones up by the school proper. Up until now the art school and folk high school have been on different sides of the city, but someone decided six months ago the kindergarten adjacent to the folk high school should switch place with the art school. Not sure I much like the idea of having to walk some kilometre to school every day next year instead of the few hundred metres I've been used to, but interesting week ahead of me. While our stuff is being moved we'll need to bus to a different city every day and use the locales there, so I have a proper school schedule for the first time in three years. Slightly geeky thing, our substitute school is a castle.

We're also doing computer graphics while we're there, so that should be interesting.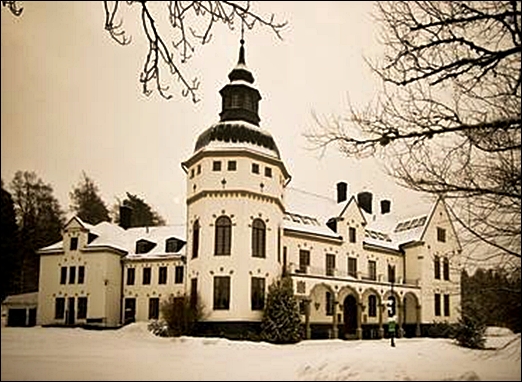 Helliden castle and folk high school.
Beyond that everything is fine. Christmas calendar is better than years past, Got some interesting games and albums to look forwards to next year, found Putlocker... I'd like to be able to keep a tidy apartment and eat better and look up the prices and times for local rock climbing walls and keep better track on all the art and comics I love over here, but all in all I think I'm doing fine.
So DA. Been a while. Think it's the third time I say that. I did start doing these journals with the additional purpose of keeping track on everything and criticise constructively and praise or degrade but I have not been doing a good job of that. Not that I have had any need to but still. So let's get to it.
Let's start with me first. I know...Me?! Who'd've thought?

A week or two ago

gave me a job after I realised I did much better on tasks than personal initiative; "Draw Judy Hopps in the style of Alphonse Mucha". I liked that even if I was beating myself up with how long it took me, but I also had no idea what I was doing and was coming up with stuff as I went along. I like Judy Hopps and I like Alphonse Mucha and all in all I liked the job.

It was different from what I usually do with elements I liked and I think it turned out pretty well. It's not just a personal opinion though, it has gotten more attention than all the other stuff I've done for the past three or four months put together in just a few days. A lot of that is of course down to Zootropolis being popular but I think much of it also has to do with it being digital instead of traditional. I may need to put more effort in with it.


I do like getting there first, but I'm also self-centred.

Anyway, this time Norwegian spider bunny has a double-wammy going. There's both Inter Schminter and this new adorable little comic called Shadow Man and Lady Light. Let's start with the latest IS update.
In short we finally find out the gist of what happened Max those years ago, after some adorable don't-give-a-fuck crazy.

That post-scratch face... Spider lady has it for a icon at the moment. And Nick laying down the law for the uppity little brat. He's gone all mature and authoritative in the AU's.

Which reminds me it's been a while since I read Zis.
Back to the comic, I always try looking for things to be improved and fixed for whatever I'm looking at to be made better, but I feel I have to strain myself to really find anything off with this bit. I mean "Everything Wrong With.." strain myself, so I won't bother, Instead there are all positives.

I like the way the conversation floats along. It's easy to follow and to the point and I feel no real hurdles in it anywhere. I wouldn't say it flows all natural-like because I can't imagine a conversation going this smoothly, but it's all part of the feel of the comic I feel. I don't question it for the same reason I don't question porn or action or Christmas movies - because it's part of the genre and helps create the feeling you're after.

There, I have dissected a frog.
It's all lovely, want to see more.

"Explaining a joke is comparable to dissecting a frog. No one is that interested, and you kill a frog."
- Jimmy Carr on the theory of jokes.
Aww, ado-obs...

Now let's move on to her new little comic project. I say comic but I mean storyboard. There's definitely a difference between those.

In short, her school class needs to make an animation and she made a story she presented as a storyboard/comic, so we will see these thingies come alive with motion later on.

It's a very sweet little thing with different worlds and people and opposites attracting and smashing through walls and it's all adorable and feelsy.
Why have I become a 13 year old girl?
It is really pretty.
Go and read it.


I'm still very curious to see where this is going, especially with so many things established already. Will we see things tied together? Will things be changed and altered? Has everything we know been nullified and useless? Is reality as we know it over..? I don't think so, because I really know nothing more than there is
a amazingly hot muscle lady with a funny accent who can turn into Godzilla, a very smart brainiac, and this little punk milling about in each other's lives, having funny adventures.
Which has been enough to keep my interest, being funny and cute and hot, but this has more materia I think. For one thing the punk seems to have grown a pair and doesn't seem as annoying and childish as before.
At the very least we will be seeing old friends.

Yams!
Also, this is
a better Christmas carol.
I've been wanting to do a take on more abstract illustration as well. I thought I might start with

because he usually does really cool stuff.
Like this one.
It's a CD cover basically, but it's better than most CD covers I have seen. I'm not sure but there is something about it which makes it seem almost like an artwork instead of an illustration (and where does the limit go? Some argue Alphonse Mucha wasn't an artist). It's odd and unique, how he's managed to make what is clearly clipped and cropped into a functional whole, while also maintaining a consistent atmosphere in all the parts of the image. It feels both fake and very real at the same time as something is so subtly off. It's a sublime constellation of excellently executed bits working together.
Now look who's back!


is back.

Inescapably clear and abhorrently accurate. The best illustrations possible for the modern decadence! Lots of other hamburger slogans!
Yeah, there is a element of "come up with something new" but seeing as nothing has changed for the last decade and this isn't supposed to be a revelation it's still good to see people able to capture it for as long as it continues. The mighty It that's going on. I don't know, but the art is speaking and I'd like to listen. Problem is I need to think as well. Boo...
I'm ashamed to say I almost forgot

This will be the last one though.
The Weaver is the maker of
Zootopia Sunderance.
By far the best noir take on Zootropolis since Zistopia. I love the darkness of it and the cheesy lone honourable warrior storyline, and a part of me keeps pocking at my consciousness, going "why on Earth would foxes rule Zootopia?", but I silence that part by remembering in the movie sheep ruled Zootopia for a brief moment.
Judy has suddenly shown herself to be a bit more than a emotionally cold lawyer and naive country bunny and shown just a bit of desperation and fear as she questioned why Nick killed their attacker when he was already defeated. After this she again needs to reaffirm their trust between one another.
I like this rendition of Judy. To say she's holding up a mask seems a bit unfair and a more accurate explanation is unlike most lawyers she has a sense of right and wrong she believes in strongly but there is more to her than that of a 2-dimensional heroine. She still needs to hold that back the same way all of us sometimes need to hold back all of what we are and instead only be one thing. I'm more concerned with Nick who, since the first chapter hasn't shown himself to be an inch more than a empty soldier. I want to see more of what is driving him to defy the city he believes is going to devour Judy and protect her and I have the sens already has broken him in some sense.